INDOOR AND OUTDOOR ATHLETIC COURTS FOR RESIDENTIAL INSTALLATIONS
Artificial Grass for Track and Agility Training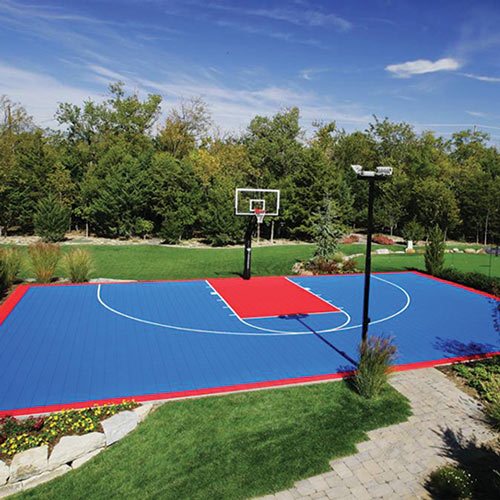 The dynamic, colorful look of SYNCourt sports surfacing adds to the low maintenance, inherent safety, and high-performance characteristics. SYNCourt becomes the obvious choice for all kinds of sports surfacing.
Residential basketball courts, tennis courts, Bocce ball courts and indoor home gyms are all more attractive and safer with SYNCourt.
You Can Customize That Sports Surface at Your Home!
Choose from a wide variety of standard and custom colors for your favorite sports team or training practice. Show some team loyalty or add character to your sports surface. Add your brand with a custom logo, created in-house at the factory with a specialized water jet machine.
SYNCourt Residential Products
Each SYNCourt product is designed to increase the speed of performance of athletes. Constructed using a low pile blended nylon and polyethylene, they have a 5mm foam back. This softer, smoother surface results in lower levels of friction than other products using only nylon. Plus, this distinctively blended nylon and polyethylene turf can allow weight-training objects such as sleds to slide across the surface easily.
Check out the following accessories to complement your residential sports surfacing.
Rebounders
A rebounder net is a great addition to any sports surface. The multi-function training aid helps tennis and soccer players practice alone. A realistic ball response allows for reaction time for each shot like in a real game. Tennis coaches especially recommend a tennis rebounder system as an excellent tool for practicing groundstrokes and getting a great workout too. Also, great to hit slapshots, fling lacrosse balls, and even simulating how give-n-go's work while heading toward the basket in a pickup game.
Ball Containment Fencing
Don't let those balls get outside of the court area. Save the broken windows, lost balls, and lost game time with ball containment fencing from SYNCourt.
Court Lighting
Add court lighting options so you can keep playing after the sun goes down. Superior, energy-efficient LED court lighting systems keep the power bill low and the gameplay high.
Basketball Goals
Professional-grade basketball goals and systems in fixed height and adjustable systems in different configurations to suit your basketball court.
Tennis Nets
High-quality tennis nets manufactured to outperform and outlast other tennis nets. Available in a range of twine thicknesses and sizes. With tennis nets for singles and doubles courts, you'll have a great time playing tennis on your SYNCourt tennis court!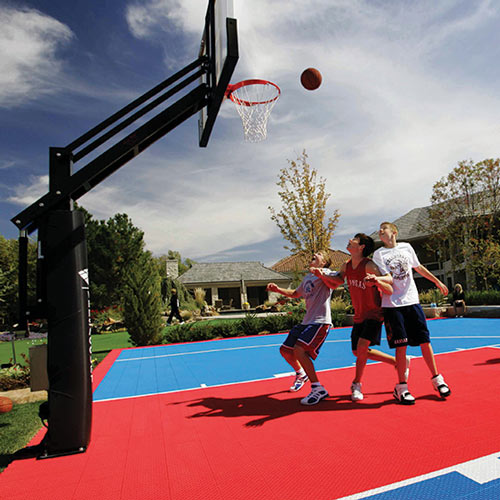 In Austin, when you need a residential basketball court, tennis court, bocce ball court, or sports surface for your home gym, call SYNLawn® Austin. We specialize in outdoor courts, indoor courts, and general sports surfacing. Call today to get a free quote on the greatest court you'll ever have!