BIO-BASED SYNTHETIC GRASS FOR MONEY-SAVING LANDSCAPING
Residential Artificial Lawns in Austin
Why Switch to Artificial Turf Solutions?
SYNLawn® is the perfect alternative to natural grass here in Austin. Our residential artificial grass is the most realistic-looking turf in the industry! Once your artificial turf installation is complete, your natural-looking lawn adds value to your home while saving you time and money on maintenance.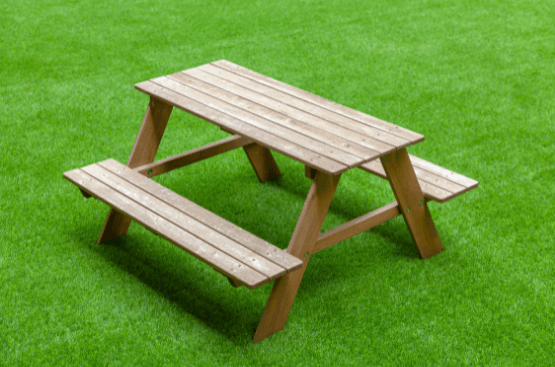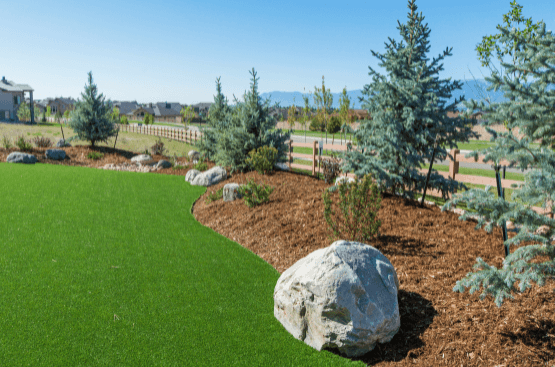 Homeowners love their SYNLawn® artificial grass in the front yard because it looks so beautiful year-round. You never have to worry about having a muddy yard or a dead and yellowed lawn. In backyards, SYNLawn® is ideal for pets and children's play areas. BBQ seating areas stay cooler with HeatBlock™ Technology and with Super Yarn™ DualChill™ IR Reflective Technology, SYNLawn® artificial grass never fades in the sun.
Sanitized® antimicrobial technology with odor-controlling top-dressing like Envirofill™ reduces 80% of the odors caused by ammonia in pet waste. The pet deodorizing top-dressing also helps keep the grass cool and won't clog drainage. SYNLawn® pet turf is stain-resistant and incredibly durable. With our Enviroloc™ backing system, turf fibers are locked in place, so you don't have to worry about your pet digging or tearing through it. In addition, our pet turf is free of any harmful chemicals or metals. In fact, our backing system is made from soybean oil to reduce the amount of petroleum in our products.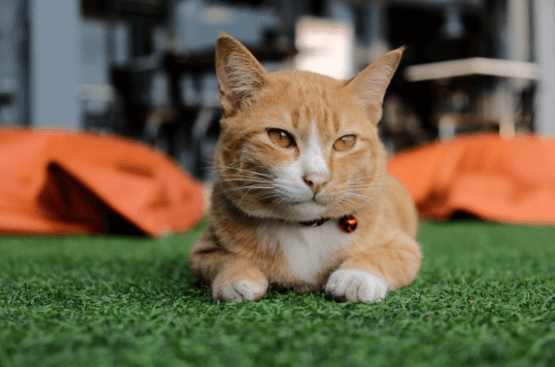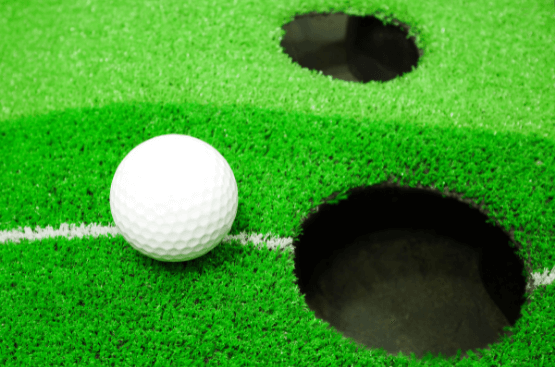 SYNLawn® putting greens are the most authentic performing golf greens in the industry. They range from simple practice greens to more elaborate putting greens featuring fringe, fairway, and rough surfaces. Improve your golf game without leaving home. Perfect for home or office, SYNLawn® also provides portable indoor putting greens, fun for golfers of all ages and skill levels.
SYNLawn® has a vast assortment of exclusive rooftop, deck, and patio turf solutions. Create an outdoor seating area, an exquisite employee lounge, or rooftop patio with SYNLawn® patio turf.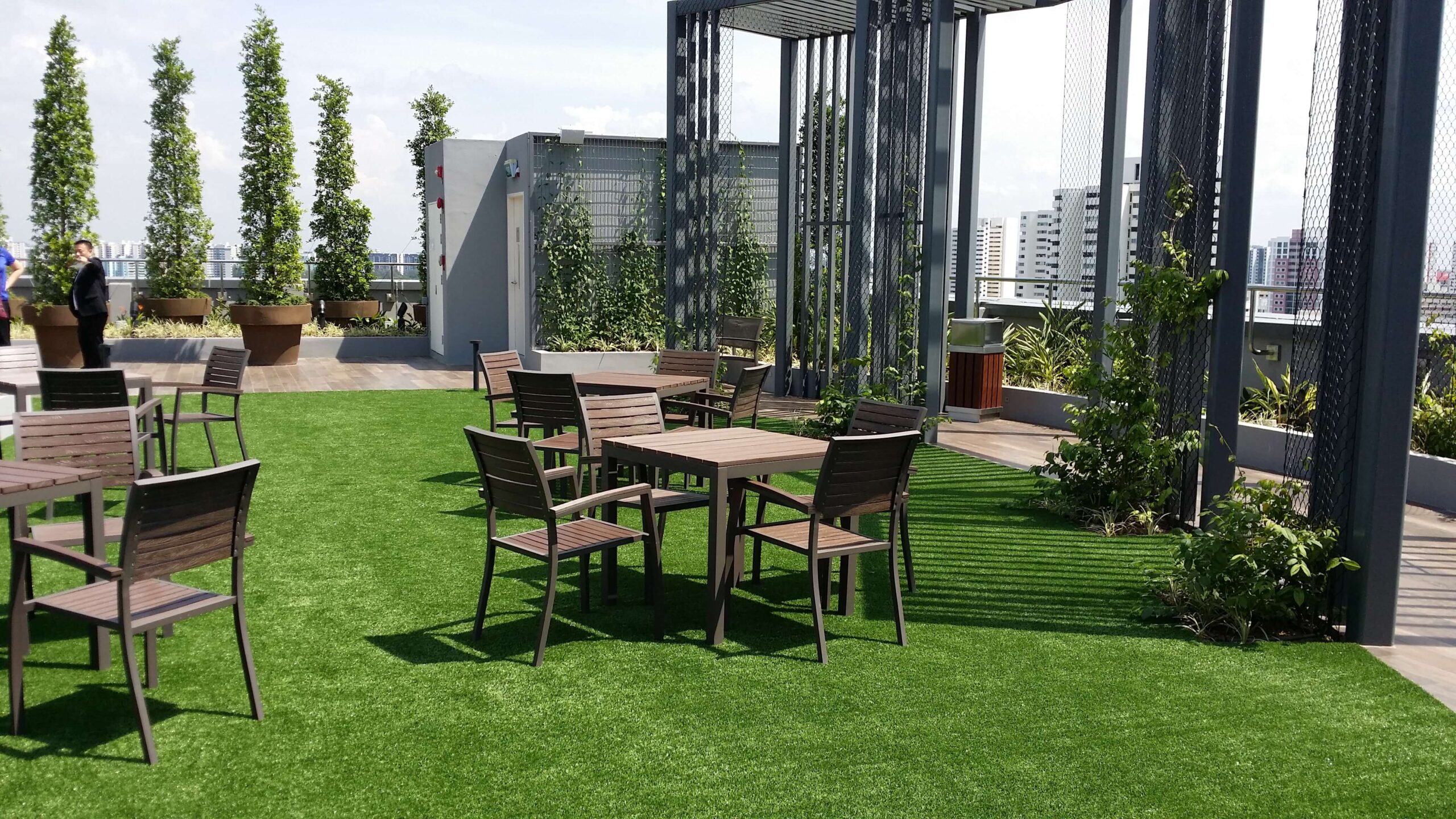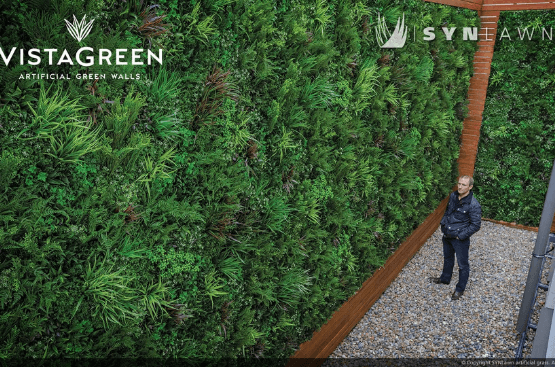 Ultra-realistic designs mimic real plants with a seamless panel to panel integration, so the plants create a natural aesthetic with no gaps in any space. Adding an artificial green wall brings your space to life, offsets non-functional walls, or functions as a spectacularly unique privacy screen. These maintenance-free artificial living walls are UV protected and fire rated. Make a statement in your space with an artificial living wall.
Dynamic, colorful sport surfacing combine safety, low maintenance and high-performance characteristics for all types of courts. Backyard basketball has never been so likely to offer future NBA players the practice time they need. Customized designs in high-quality construction give these residential sports surfacing the competitive edge.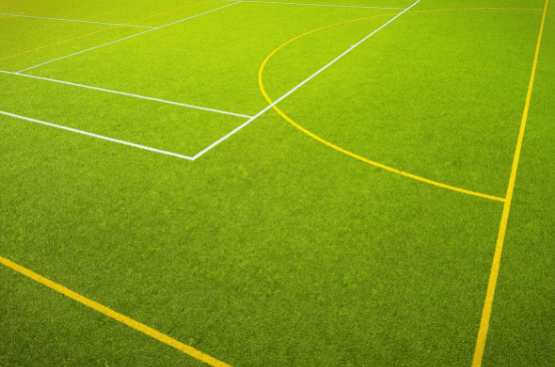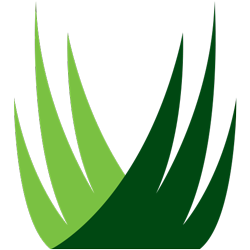 Browse our incredible selection of high-quality products to find the right synthetic turf for your needs.