Impressive Artificial Grass Solutions for your Business Landscape in Austin
aRTIFICIAL turf for Commercial lawns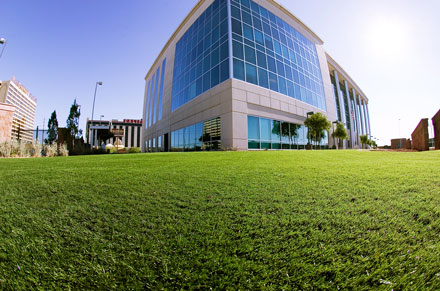 Companies in Austin are looking at three issues when they consider artificial turf.
Lower maintenance – reduce fees for landscaping
Reduced water consumption – saving water to save the planet
Clean, inviting, and natural-looking artificial grass installations to make a positive impression.
SYNLawn® Austin offers exceptional commercial artificial grass installations to all Austin-based companies looking to save money, help the planet, and reap the benefits of installing the highest quality synthetic lawns.
An elegant, appealing, realistic-looking landscape around your office or other commercial location is critical for customers, potential customers, employees, and vendors. We designed the SYNLawn® line of artificial turf products to be beautiful, natural-looking, low maintenance, and of exceptional quality.
SYNLawn® Austin provides commercial artificial grass throughout the Austin, Texas, area.
Homeowners in the Austin area have been turning to synthetic grass to reduce the stress of landscaping and high-water bills. Artificial grass for commercial locations is gaining popularity almost as quickly as it is installed. Artificial grass is an eco-friendly, cost-efficient way to make a positive impression in Austin.
Businesses switching to artificial grass have seen reductions of 50% or more in their water bills right after making the switch. Luxurious, vibrant green lawns look realistic, never like fake grass, all-year-round with almost no maintenance at all.
SYNLawn® has more than 50 years of research and development behind this market-leading landscaping solution. This commercial-use artificial turf uses our exclusive, plant-based Enviroloc™ backing system that replaces petroleum-based polymers with renewable soybeans. In addition, our commercial lawns utilize a first-of-its-kind turf yarn called Super Yarn™ that combines three unique technologies at the molecular level to create the cleanest and safest turf fibers ever designed. With Super Yarn™, our products feature an effective antimicrobial by Sanitized® which eliminates pet odors and 99% of bacteria from the turf. Next, our DualChill™ IR reflective technology is added to prevent the turf from fading and absorbing heat resulting in a longer product lifespan. Finally, our StatBlock™ antistatic technology prevents the buildup of static electricity to provide safe and more comfortable surfaces.
SYNLawn® patented HeatBlock™ reflective technology means your SYNLawn® artificial lawn stays significantly cooler than other brands. In fact, HeatBlock™ is scientifically proven to be 20% cooler than any other competing turf product on the market. Our exceptionally durable artificial turf is recyclable and reduces its carbon imprint because of the long useful life and the elimination of mowing. Display the eco-friendly and water-conscious mindset of your company with a beautifully manicured lawn. No mowing, landscaping, or watering required.
SYNLawn® provides commercial synthetic turf for these types of business applications.
For restaurants, hotels, apartments, senior living facilities, malls, offices, or any other business, commercial artificial grass offers many benefits such as:
Call SYNLawn® Austin today to schedule a free consultation and begin the construction of the most elegant commercial landscape possible.
Benefits of Commercial Artificial Grass Solutions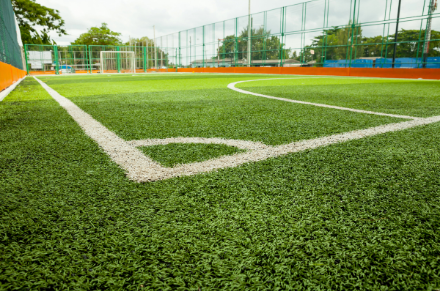 Commercial Lawn Applications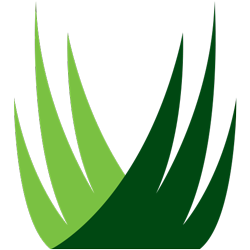 Browse our incredible selection of high-quality products to find the right synthetic turf for your needs.