Commercial Sports Surfaces
Indoor and Outdoor Sport Surfacing for Business, Municipalities, Colleges, and Universities
SYNLawn® SYNCourt provides dynamic, colorful sports surfaces with low maintenance, high-performance and inherent safety characteristics.
SYNCourt is the obvious choice for commercial sports surfacing. Commercial basketball courts, tennis courts, Bocce ball courts and commercial gyms are all safer and more attractive with SYNCourt.
SYNCourt Features:
Engineered flex joints accommodate expansion & contraction & allow for base undulations with more lateral give & comfort
Quick drainage means fast drying after rain
Designed to be great for all skill levels
Narrow Gauge Ribs offer the best traction
Full thickness color & excellent UV stability
Easy to assemble with quick access to base for repairs
8 Positive Locks per 12" side
Court can be fastened around perimeter with tight trim to fencing under all conditions
Low abrasion means less wear on shoes & sports equipment
Beveled edging available to provide a safe and attractive transition for thresholds and unfloored areas
Choose from many standard and custom colors to customize your court for your sports team or brand. Show some home team loyalty with added character on your sports surface. Add more branding with a custom logo, like the school crest, created in-house at our factory with specialized water jet machines.
SYNCourt Commercial Products
Each SYNCourt commercial product is designed to increase the speed and performance of your athletes. Using a low pile blended nylon and polyethylene construction, the courts have a 5mm foam back. This smoother, softer surface results in lower friction than with other products that only use nylon. Plus, this distinctively blended nylon and polyethylene artificial turf allows for weight-training objects like sleds to slide across the surface.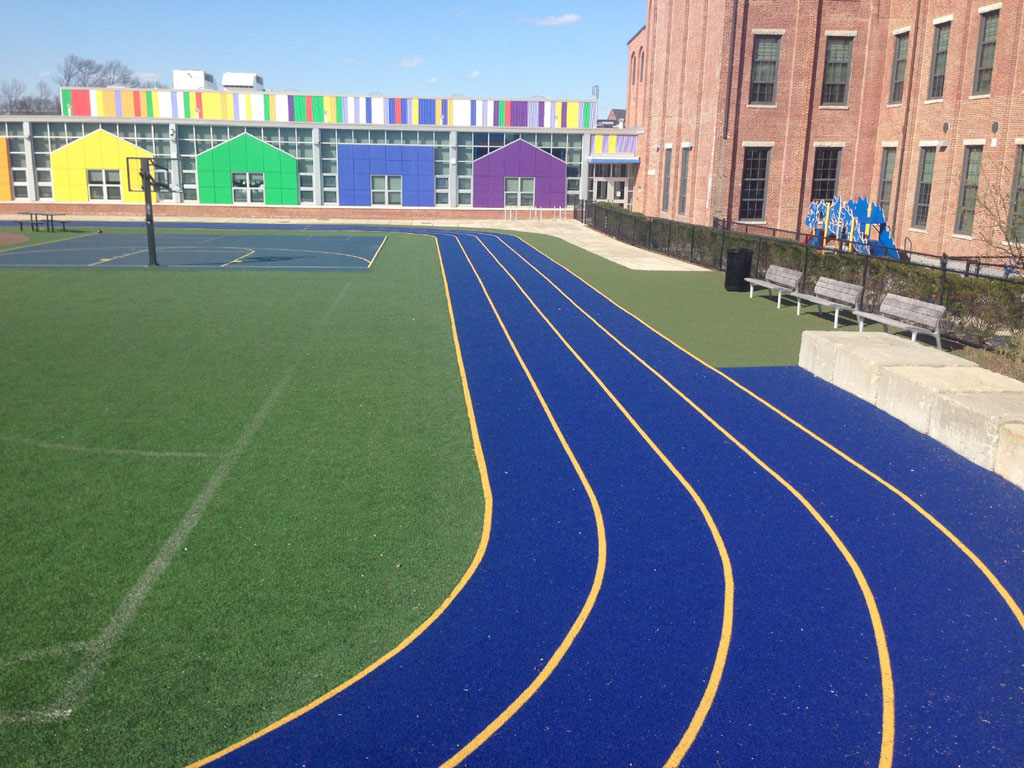 Customize A Sports Surface to Your Team and Brand
Check out the following accessories to complement your residential sports surface.
Rebounders
A rebounder net is a great addition to any sports surface. The multi-function training aid helps tennis and soccer players practice alone. A realistic ball response allows for reaction time for each shot like in a real game. Tennis coaches especially recommend a tennis rebounder system as an excellent tool for practicing groundstrokes and getting a great workout. Rebounders are great to hit slapshots, fling lacrosse balls and even simulating how give-n-go's work while heading toward the basket in a pickup game.
Ball Containment Fencing
Don't let those balls get outside of the court area. Save the broken windows, lost balls, and lost game time with ball containment fencing from SYNCourt.
Court Lighting
Add court lighting options so you can keep playing after the sun goes down. Superior, energy-efficient LED court lighting systems keep the power bill low and the gameplay high.
Basketball Goals
Professional-grade basketball goals and systems in fixed height and adjustable systems in different configurations to suit your basketball court.
Tennis Nets
High-quality tennis nets manufactured to outperform and outlast other tennis nets. Available in a range of twine thicknesses and sizes. With tennis nets for singles and doubles courts, you'll have a great time playing tennis on your SYNCourt tennis court.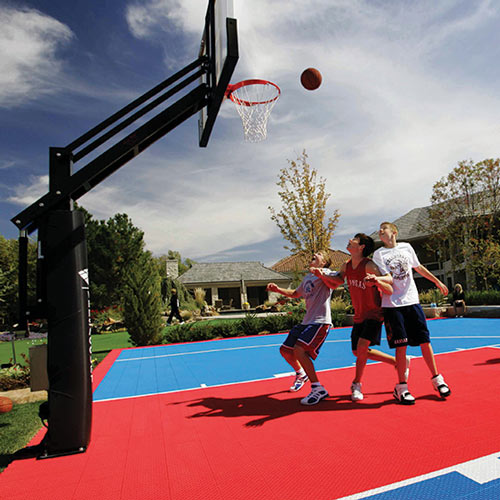 For a commercial basketball court, Bocce ball court, tennis court, or sports surface in Austin, call SYNLawn® for SYNCourt. We specialize in both outdoor and indoor courts and general sports surfacing. Call today to get a free quote!