Austin Bocce Ball Court Installation
The growing popularity of bocce ball has prompted SYNLawn to change the game once again. We are proud to introduce to you, our very own Austin bocce ball court systems. The ultra-realism and low-maintenance qualities that our customers have come to know and love, are now implemented into your brand-new, residential, or commercial bocce ball court. Bring home our exclusive technologies and eco-friendly products to change the way that you enjoy your favorite activities with SYNLawn artificial grass in Austin, Texas.
SYNPro Bocce is designed specifically with bocce ball enthusiasts in mind. This state-of-the-art bocce ball court turf is designed with a concrete base that provides consistent textures and performance. Next, Austin artificial turf is spot glued with commercially approved adhesives to ensure the longevity of your installation. SYNPro Bocce eliminates the need for maintenance, so you will never have to mow it, water it, or spend money on costly repairs or equipment. Say goodbye to hassle and hello to fun!
Bocce is growing in popularity for its ease of accessibility and playability. People of all ages can enjoy casual fun in their own backyard or in commercial settings such as patio bars, restaurants, office lounges, and more. In addition, thanks to its IPEMA certification, guests can enjoy our Austin turf surfaces without worrying about accidental injuries that may occur from falls of up to 10 feet!
Additional benefits of SYNLawn Austin bocce ball turf include:
Consistent ball roll with minimal bounce
Dust-free with no watering required
Excellent drainage
Near immediate use after rain
Can be shoveled after snow
ADA compliant
IPEMA certified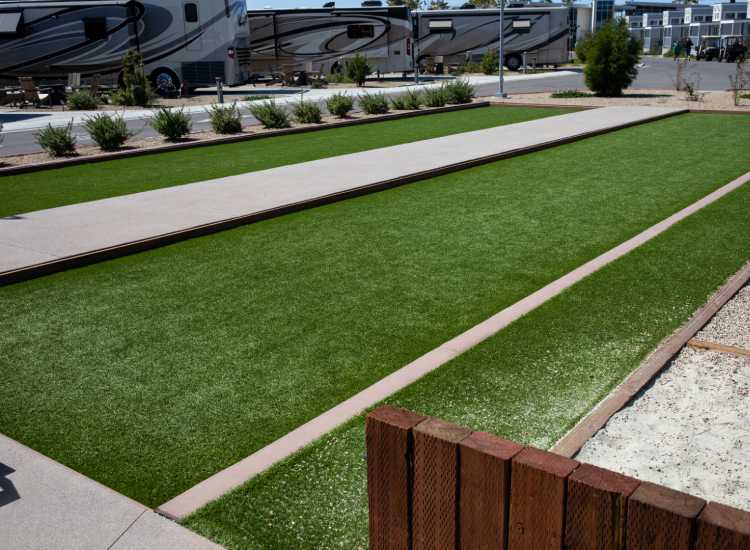 SYNPro Bocce is designed with a one-degree pitch to encourage optimal drainage. Rain or shine you will be able to utilize your court with ease and in the event that pets come in contact with the court system, they will no longer track muddy paws into the house.
We are always exploring new ways to incorporate our commitments to environmentally responsible products. We work in partnership with local farmers to source recyclable components such as sugar cane and soybean oil. In doing so, we can significantly reduce petroleum from our manufacturing process, conserve thousands of gallons of water, reduce carbon emissions, and reduce the impact our turf has on local landfills by being recyclable.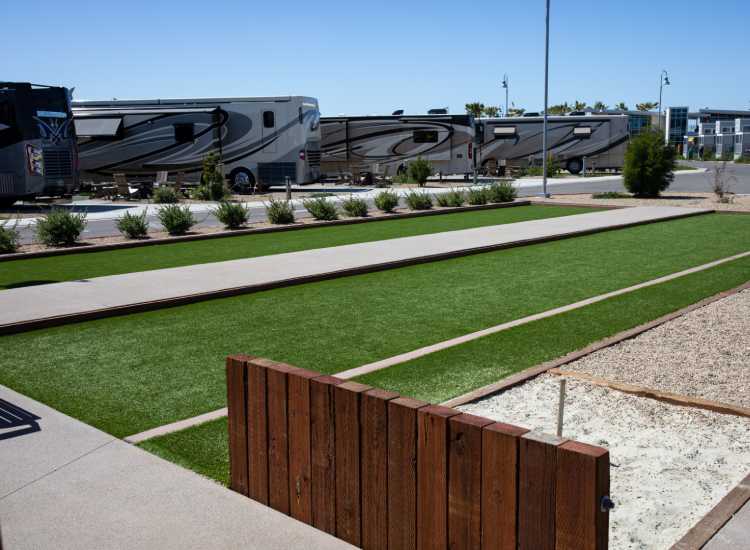 Gameplay Meets Proprietary Turf Technology
For over 50 years, our dedication to research and development has led us to victory in the artificial grass industry. Through trial and error, we have developed the most innovative technologies and features that separate us from an otherwise flooded market. SYNPro Bocce is no exception and proudly boasts two of our groundbreaking innovations.
EnviroLoc+™ Plant Based Backing System
EnviroLoc+ is SYNLawn's very own two-part woven backing system made from soybean oil and other recyclable materials. EnviroLoc+ acts as a turf fiber security system that "locks in" grass blades for increased product and installation lifespan. In addition, EnviroLoc+ features a porous body that aids in drainage and helps to prevent algae and fungal growth. As a result, it can help to prevent airborne respiratory allergens. Thanks to EnviroLoc+, SYNLawn is able to offer its customers with longer lasting and more environmentally friendly synthetic grass installations.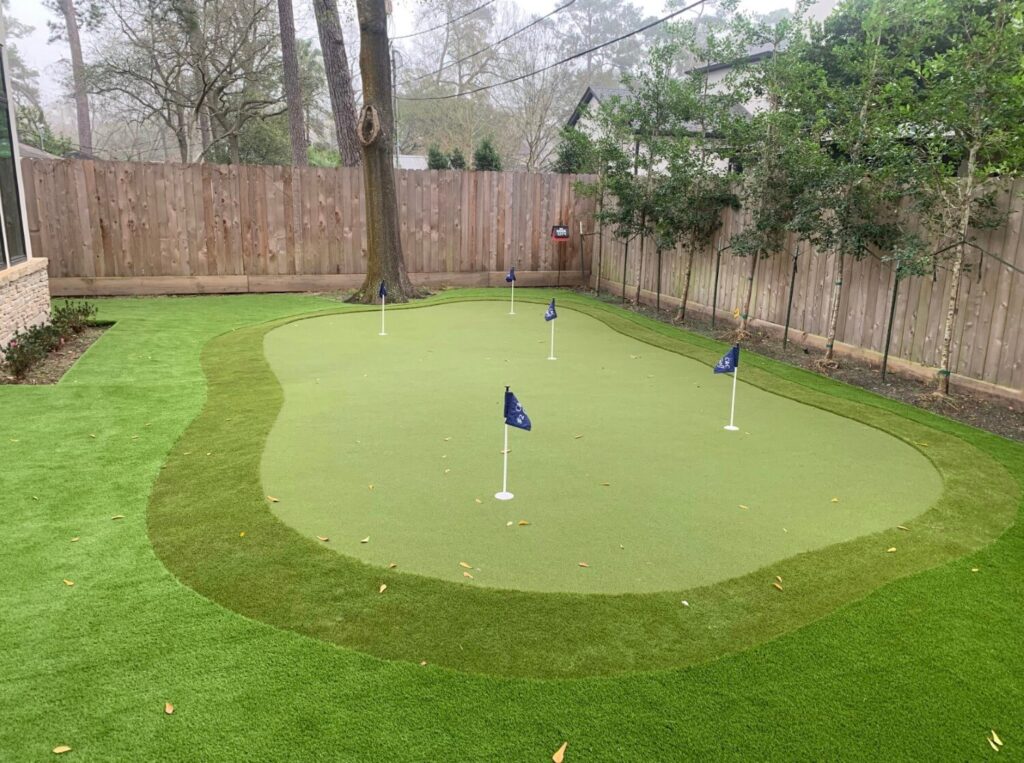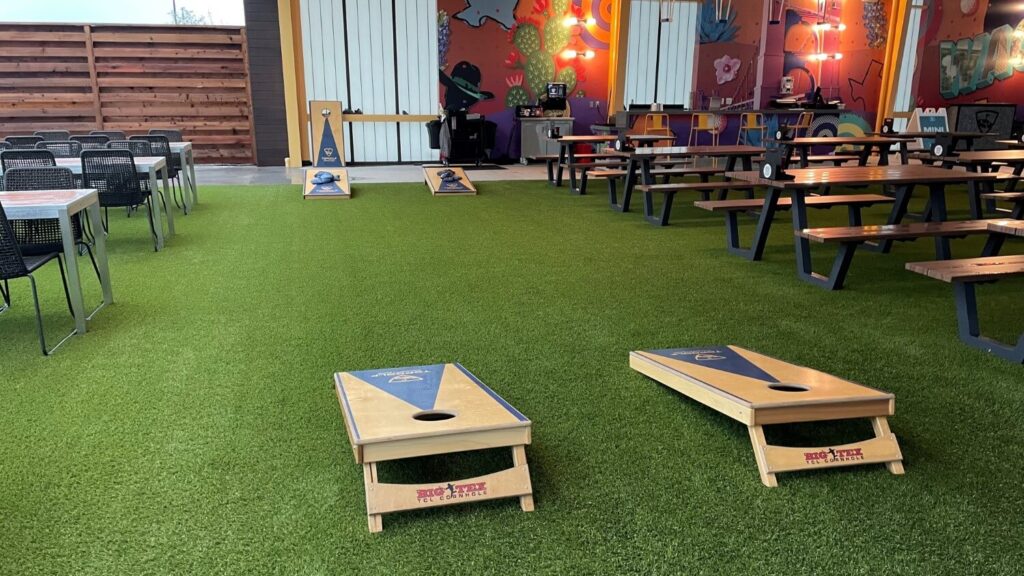 Cooler Surface Temperatures with HeatBlock™ Technology
At times, while we may find the urge to enjoy our favorite outdoor activities, the weather may not always be permitting. More specifically, it can be difficult to enjoy traditional grass and alternative turf brand surfaces comfortably when temperatures rise. HeatBlock™ technology is an exclusive inclusion in SYNLawn Austin artificial grass that has been scientifically proven to fight heat absorption and keep our surfaces up to 20% cooler than any competing turf brand. This means that even during the summer you can even enjoy bocce by the pool barefoot without burning your feet!
SYNLawn is a customer-driven company that takes inspiration from client interests and environmental needs. We are fully licensed and insured to work on and precisely install multimillion-dollar projects from start to finish, and our products are backed by our unmatched limited lifetime warranty. We work closely with landscape designers, construction workers, architects, general contractors, and more to create the safest, cleanest, and greenest surroundings all across the country. For more information about our service and products, contact SYNLawn Austin to schedule a complimentary consultation today!
Please fill out all mandatory fields with an astrerisk *
Your information will be held confidential with our company.