Artificial Grass for Apartment Complexes in Austin, TX
Artificial grass is an outstanding landscaping solution for Austin, TX apartment complexes. While Austin has pleasant weather for the most part, it can get very hot and have heavy rainfall in May and September. As a result, maintaining a healthy natural grass lawn has become increasingly difficult and costly. With the help of SYNLawn Austin, TX, apartment complexes have been turning to artificial turf as a way to maintain their aesthetic appeal, conserve water, and lower maintenance costs.
SYNLawn is a well-known brand in the synthetic turf industry. With over 45 years of combined expertise and over 300,000 artificial grass lawn installations, we have continued to accrue stellar feedback for our plant-based Enviroloc turf, which features the legendary HeatBlock technology. Here is why Austin, TX apartment complexes continue to trust SYNLawn for their customized synthetic turf installations: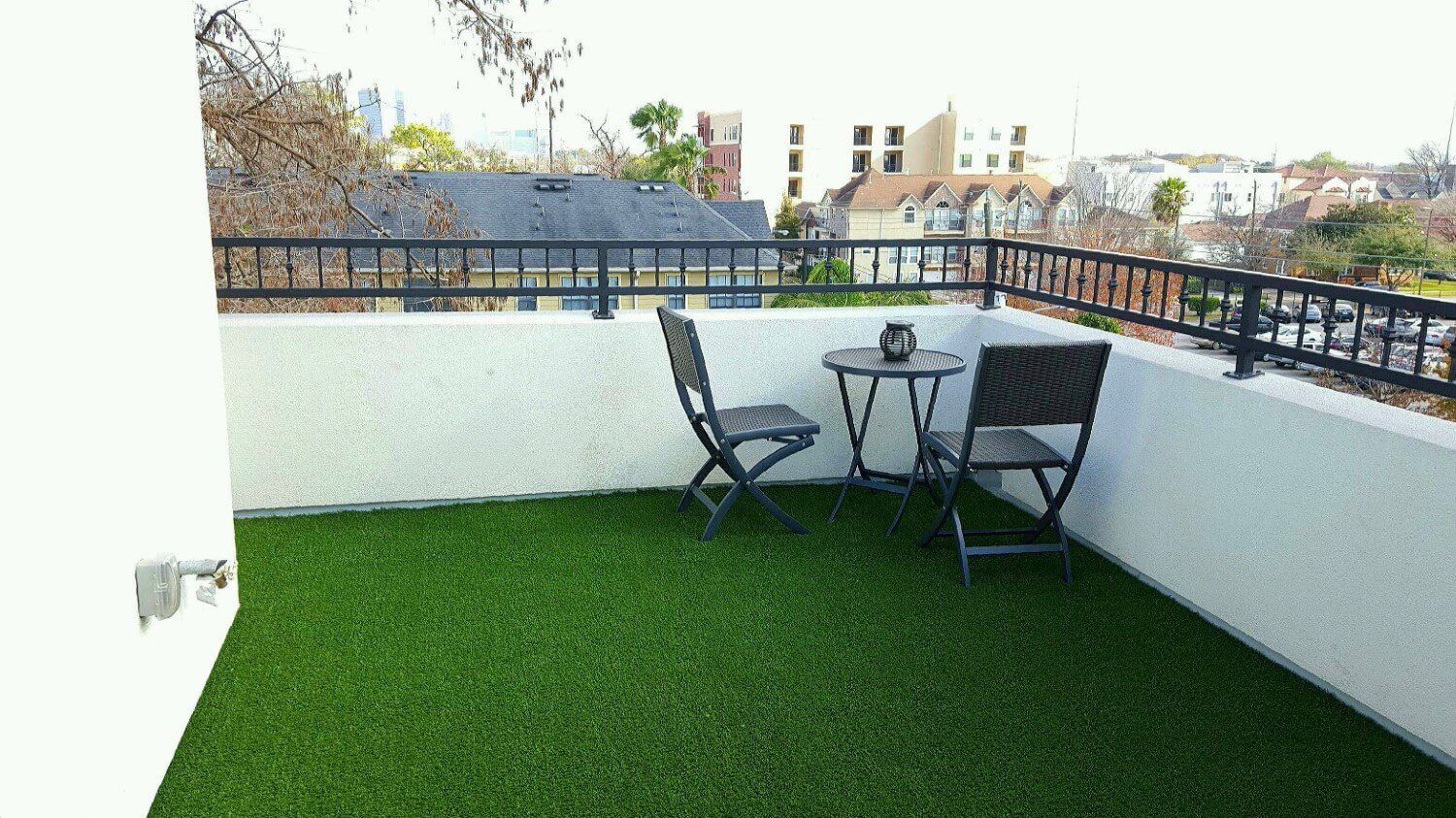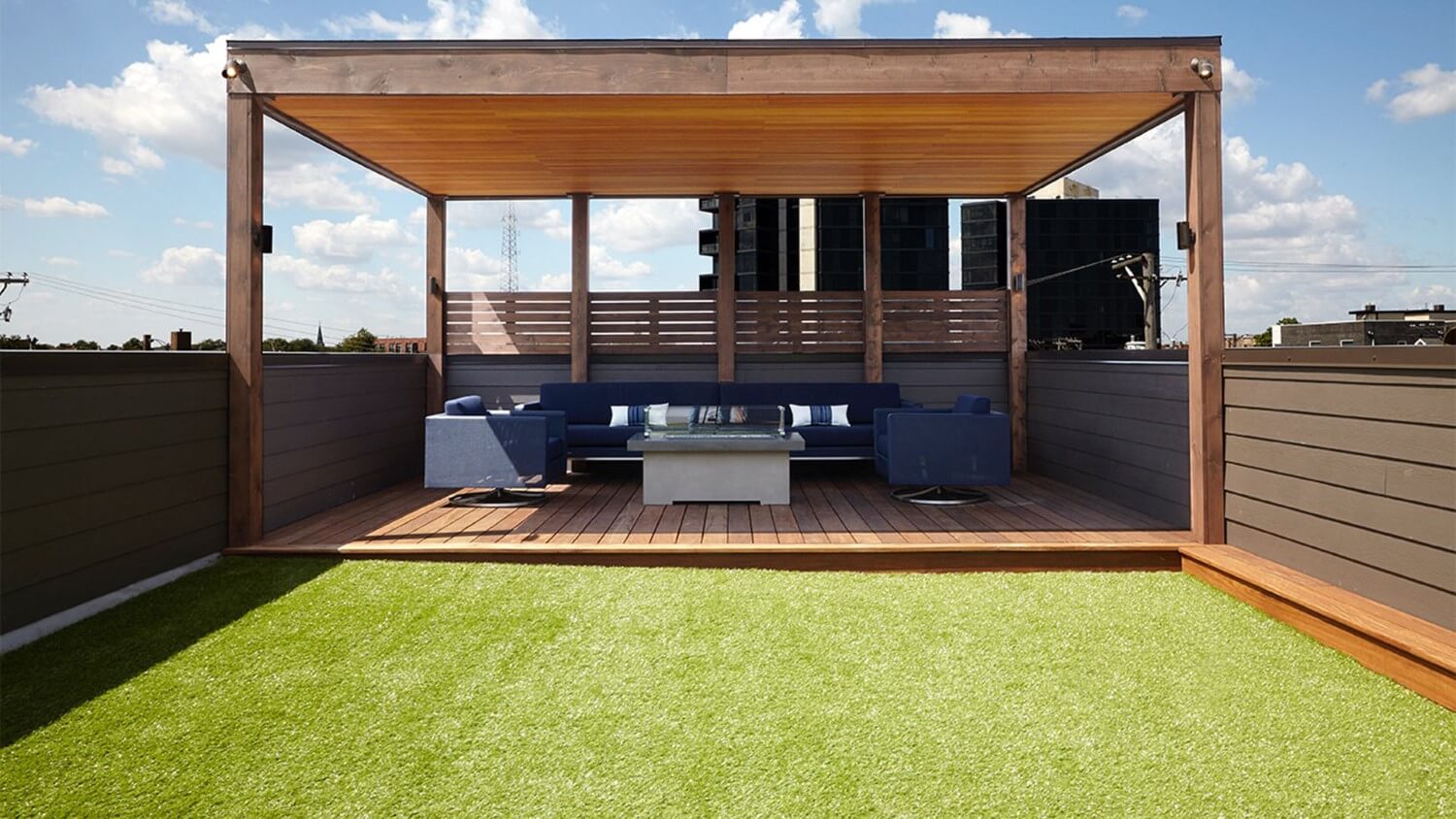 When it comes to traditional grass lawn care, water is a significant expense. This is especially true in the Texas heat. So it makes perfect sense to switch to synthetic grass when considering that lawn care accounts for more than half of many apartment complexes' overall water expenses.
SYNLawn's artificial grass is recognized for its durability, strength, and realistic feel, thanks to our innovative technology and partnership with famous golf maestro Dave Pelz. Our turf is perfect for residential complexes looking to attract golfers by installing putting greens. The PGA-standard turf is grand and sumptuous, is simple to maintain, and saves water.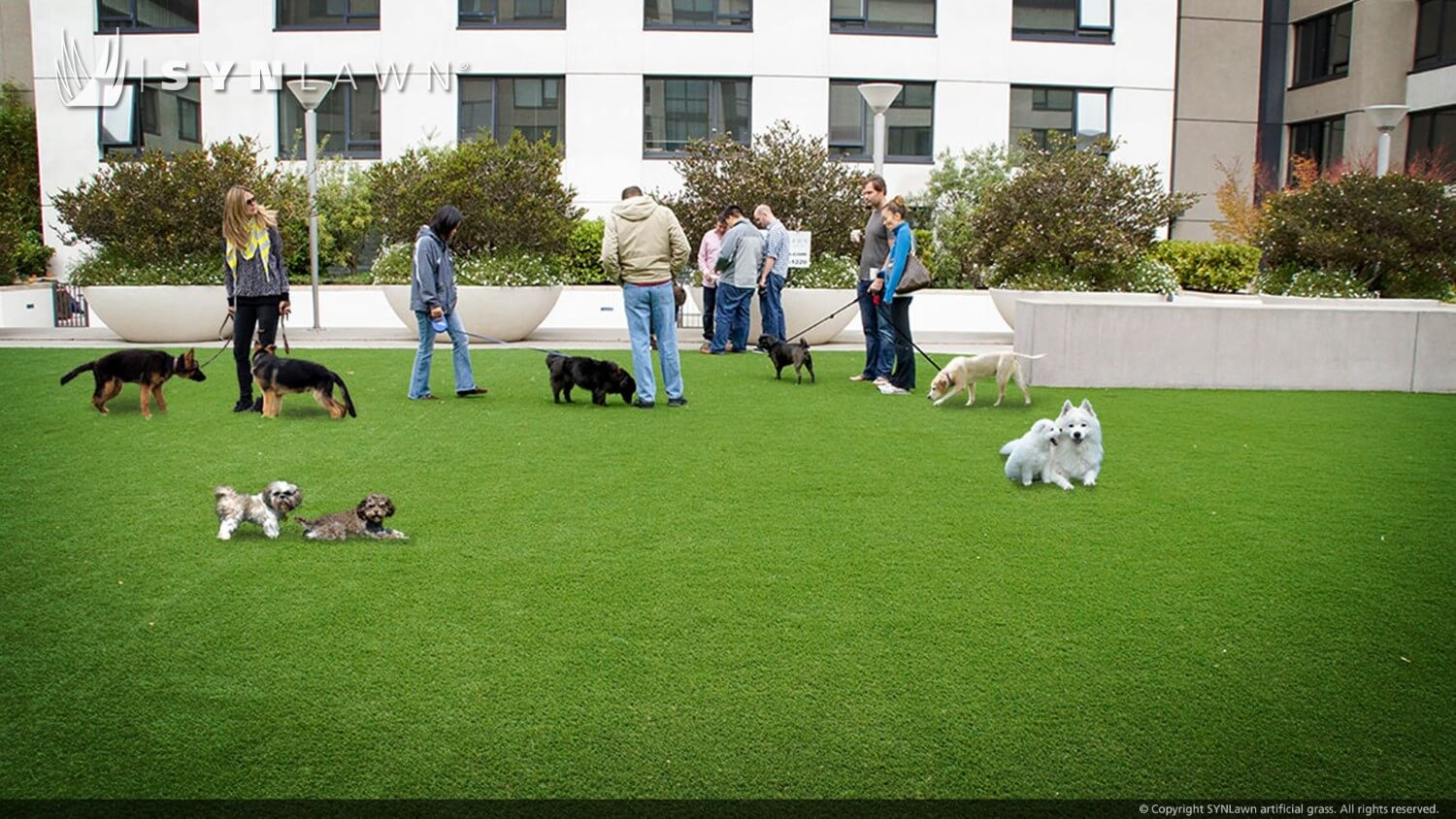 Since artificial grass is made of synthetic materials, it does not require regular lawn maintenance tasks such as lawn mowing, pruning, weeding, or watering. This avoids the need for ongoing landscaping contracts, which may be extremely expensive in Austin, TX, where living costs are high. Instead, as an apartment owner or operator, you can devote your time and energy to other endeavors, such as ensuring the satisfaction of your tenants.
Similarly, you can eliminate the need for expensive irrigation systems, in addition to the requirement for installing water sprinklers. Because lawn care accounts for more than half of all water-related expenditure for many organizations, installing artificial grass will result in a significant reduction in monthly water bills. Even better, spills, leaves, pet waste, and other incidents can be easily cleaned up with a water hose or rake.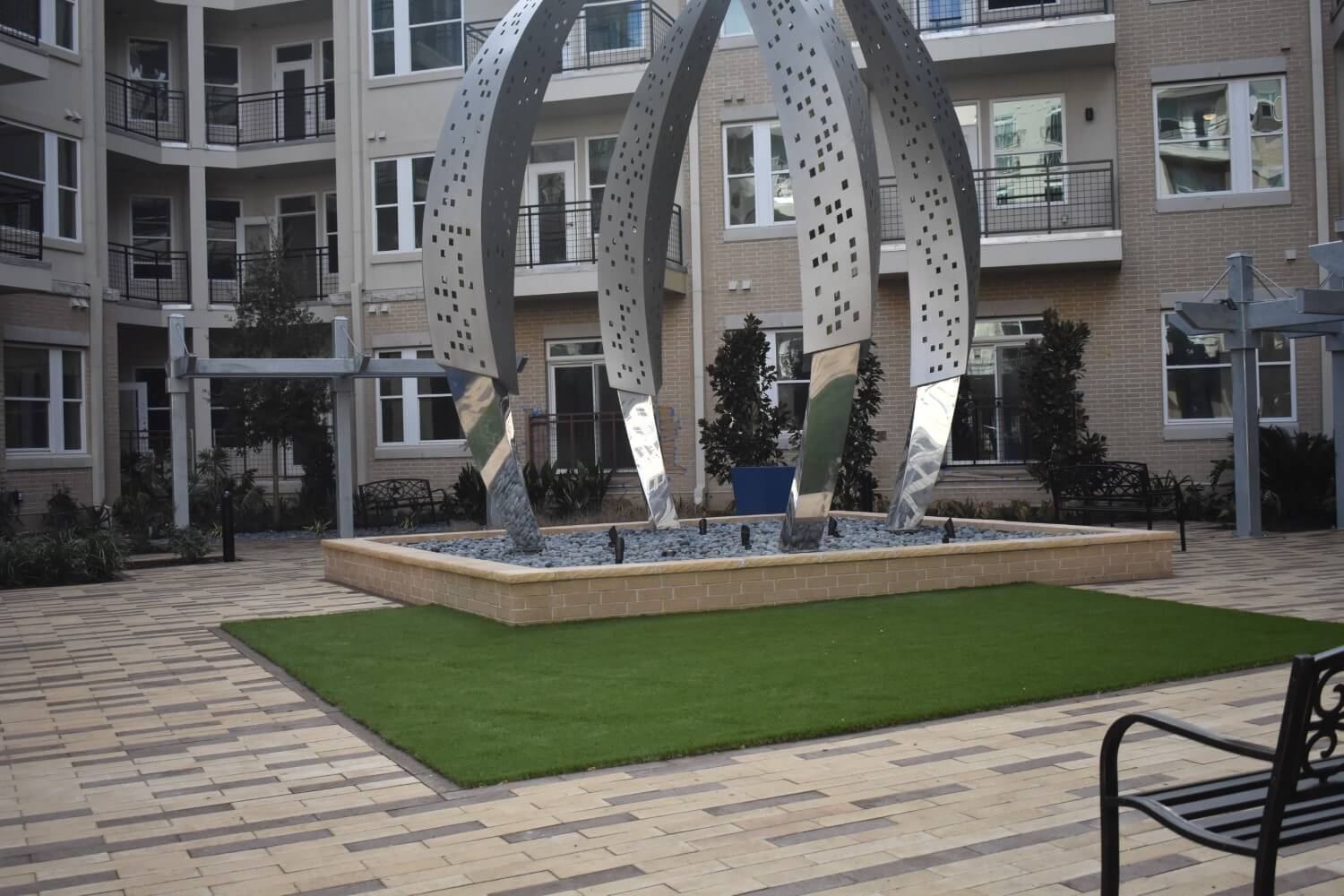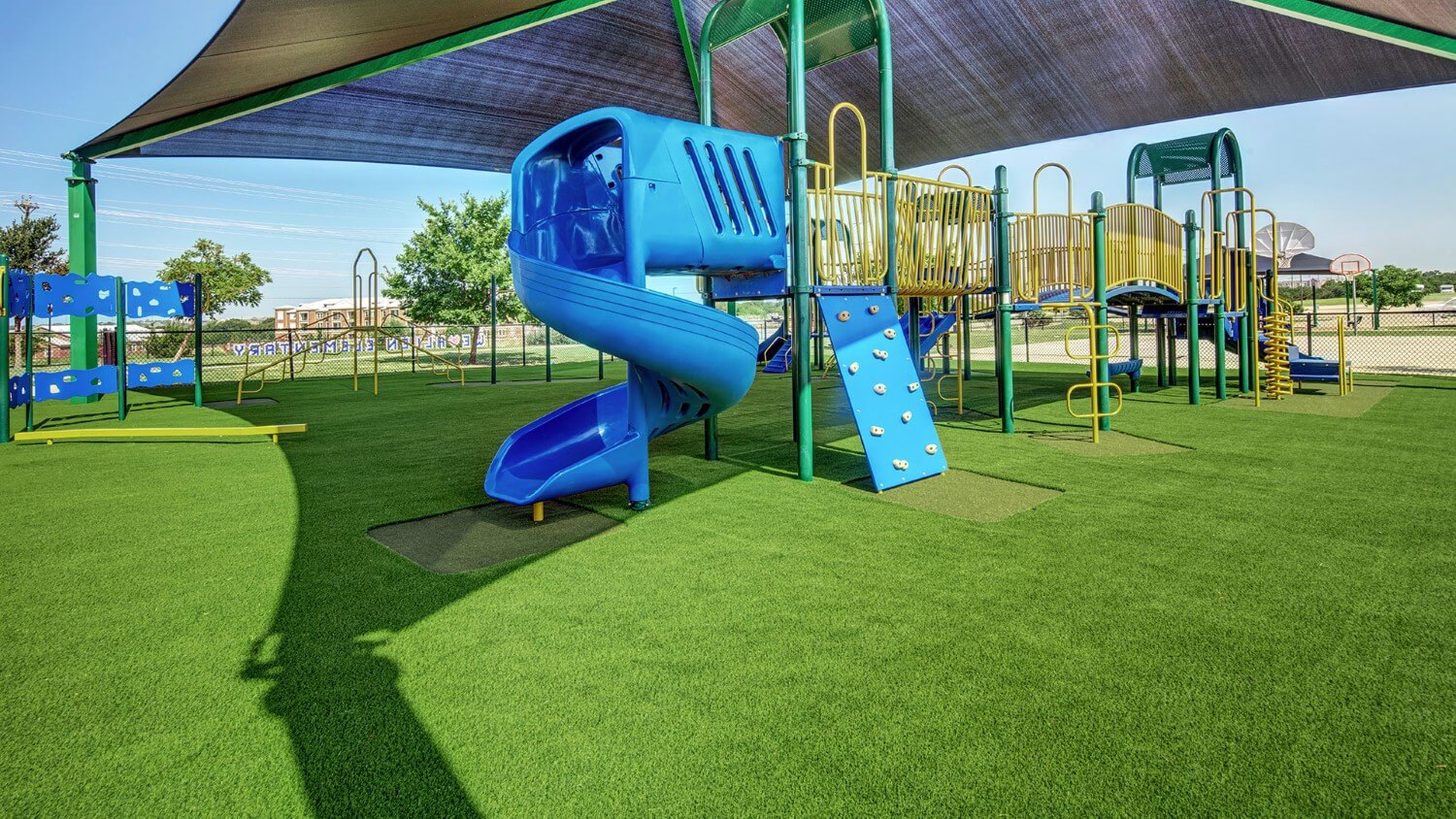 A vast number of apartment tenants have both kids and pets. SYNLawn's non-abrasive grass is specifically designed with children's safety in mind. Our ASTM-tested turf, produced in compliance with IPEMA regulations, can protect children from injuries caused by falls from heights of up to ten feet. As a result, it is a much-appreciated addition to apartment community playgrounds.
In addition to having excellent safety features, artificial grass is also highly durable. Despite the high levels of pressure and foot traffic, the turf retains its texture. This is in addition to the well-known HeatBlock Technology, which keeps the turf cool even on the hottest summer days.
Pet owners will also appreciate the numerous benefits that our synthetic turf offers. There are no more brown spots in the grass to contend with and no holes to patch. No matter how many times your pet claws and runs on the grass, our pet turf in Austin always looks remarkably consistent and pristine.
The Enviroloc fibers come with excellent drainage properties, allowing liquids to filter through at a rate of 30 inches per hour. As a result, pet odors and mud puddles are reduced, which in turn keeps muddy paw prints out of your house.
Get a Free Consultation On Our Apartment Building Turf Installation
With SYNLawn Austin, TX's artificial grass, you won't have to worry about watering, mowing, or other time-consuming landscaping tasks. In addition, you will have cheaper water bills while completely revamping the appearance of your apartment complex! Please contact us right away to set up a free consultation.
Please fill out all mandatory fields with an astrerisk *
Your information will be held confidential with our company.