Artificial Pet Grass in Austin
Give your best friend a clean, comfortable space for playing, relaxing, and doing their business without worrying about odors, pests or dirty paws tracking mud back into the house.
In Austin, TX and surrounding areas, many pet owners dedicate a play area for beloved pets. Using pet turf or an artificial grass dog run gives your pet more freedom to be themselves.
Energetic dogs that love to run and play in the yard can ruin a lawn in no time. When they rip up clumps of dirt, they track that mess right back into the house. A stressed lawn, especially if your dog compacts the soil, ends up with thinner turf, making your yard more prone to weeds and pests. Digging up roots grass and dirt, looking terrible and undermining the overall health of your lawn.
Fortunately, there is an answer. SYNLawn® pet grass holds together, looking well maintained and eliminating the dirt that could get tracked into the house on muddy paws.
If your pets like to nap outside, SYNLawn® Austin artificial grass is ideal. With our proprietary technology, the artificial grass never gets muddy or hot enough to burn their paws. SYNLawn® exclusive HeatBlock™ technology prevents heat absorption resulting in cooler surface temperatures that protect those paws during summertime. Our plant based Enviroloc™ backing system is extremely resilient. It prevents pets from tearing or digging through the turf and protects the turf from shedding. First-of-its-kind Super Yarn™ technology is SYNLawn's greatest innovation. It combines three unique technologies to create the cleanest and safest turf yarn ever designed. With an effective antimicrobial by Sanitized® and DualChill™ IR reflective technology, SYNLawn® pet turf is odor-free, stain resistant, and protected against fading in the sun. This no-odor pet turf is perfect for dog run grass or dog kennel turf.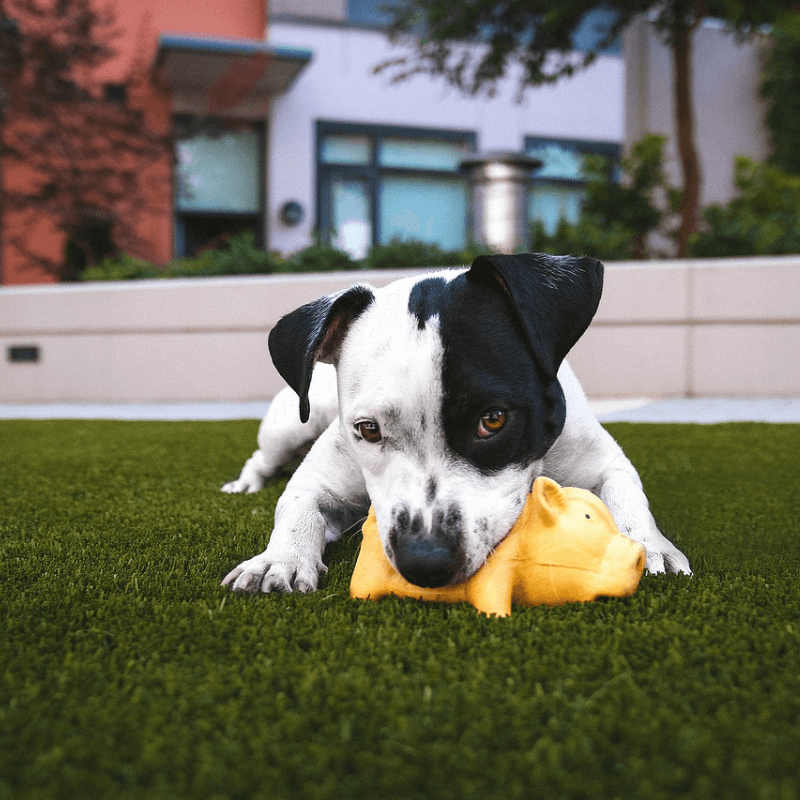 Wide Variety of Pet Grass Products
SYNLawn® pet turf offers exclusive features and benefits such as:
Stain and odor resistance
Protection from diseases spread around by fleas, ticks, and other pests
Significantly cooler surface temperatures that protect paws from burning
Extremely resilient grass fibers that help to maintain realism
Synthetic grass fibers made from sugar cane
Turf backing made from soybean oil
All products manufactured in the USA
No harmful chemicals or heavy metals
Optimal drainage allows for use immediately after it rains
Envirofill® odor-controlling top dressing can be added to further prevent and eliminates pet odors caused by ammonia
SYNLawn® Austin Options
Here at SYNLawn® Austin, we offer the best synthetic grass options for both you and your pet. When choosing from our many options, consider:
Size of your animal(s)
Size of your home's landscape area or designated dog run grass section
The amount of time your pet(s) spend on the dog run grass
Security measures for dogs with destructive tendencies
Your personal preferences for product appearance
SYNLawn® synthetic grass also has the look and feel of a healthy, regular lawn, so it is both comfortable and beautiful.
SYNLawn® Austin has an incredible selection of lawns for pets, so you have the freedom to choose the right style for your landscape. These products are all perfect for dog run grass, so your choice depends on what is best for the application. The experts at SYNLawn® Austin will guide you!