Dog Park and Dog Kennel Artificial Turf in Austin
SYNLawn® Austin designs and installs the best artificial pet turf available. The attachment to our pets can be so strong, it is only reasonable that we want to offer them the best in life. At SYNLawn®, our artificial grass is the best you can get, for not only your pet, but for your own enjoyment as well.
No matter how big or energetic your dog is, our durable synthetic turf for pets can handle them, while also giving a delightful sensory experience. Besides looking amazing, our pet grass is very low maintenance, provides security, so your dog can't dig underneath it, and also keeps away parasites like ticks and fleas.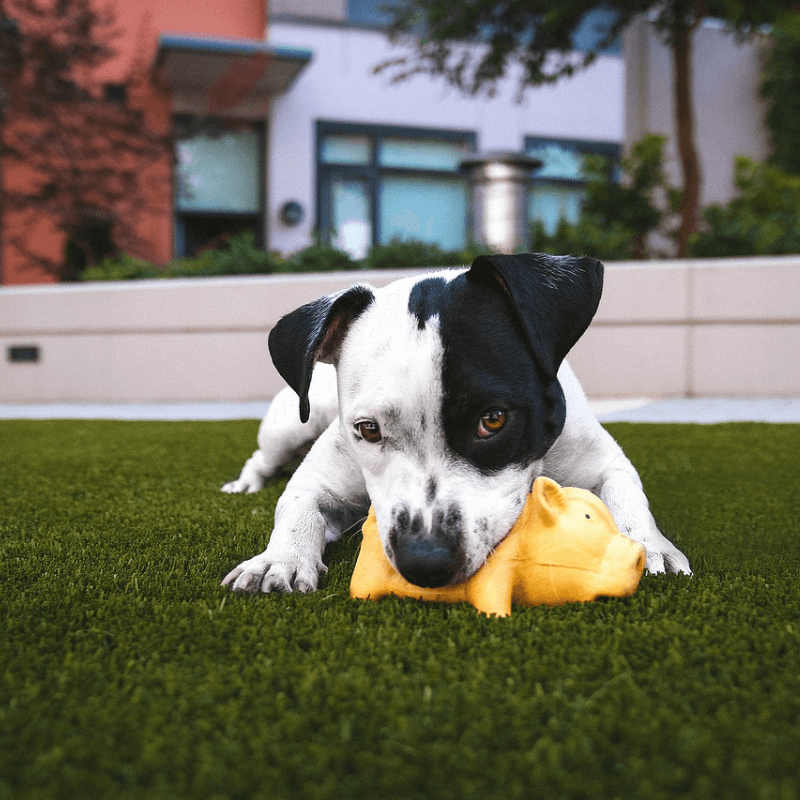 Enviroloc/Triple Layered Backing Systems
This environmentally friendly, multi-layer backing system locks in the synthetic turf fibers. This backing system extends the general life of SYNLawn® products but is especially important for commercial pet areas. The multi-layer backing system means that even destructive pets won't be able to tear through the dog run grass to dig a hole in the underlying ground.
SYNLawn® Austin is committed to providing you with the best quality pet grass products. Our Austin pet turf specialists help you design your pet area to meets the unique needs of your canine visitors and your location specifications. Your customers will love your new high-quality pet turf!
SYNLawn® Austin helps you reduce the ongoing costs of landscape maintenance when you switch to a synthetic dog park turf. Durable, long-lasting pet turf maintains its color and an incredibly realistic texture all year long.
Eliminate expensive water and lawn maintenance crew bills. SYNLawn® Austin uses eco-friendly, technologically advanced, fake grass for dogs that provides your customers and employees with the best animal facilities.
Contact us to learn how we can help you deliver high-quality pet services to your visitors.
Advantages Of SYNLawn's Pet Grass in Austin, Texas