Mini Golf Construction in Austin, TX
If you are developing a new construction site for a mini golf course in Austin, TX you will benefit from the expertise of SYNLawn Austin. Our design team will help you to custom build an impressive mini golf course that is sure to draw customers. Or if you are looking to revitalize an older mini golf course we can help you redesign your course to maximize crowd appeal and keep your clients coming back for more. 
Enjoy artificial turf anywhere
New mini golf construction is a sound business investment. The fact that in a sunny area like Austin, Texas, people love to play mini golf because it's a fun, family activity that doesn't take a lot of money or planning. Which makes for repeat business and draws families throughout the week as well as on the weekends.
The key to a prosperous mini golf construction is artificial grass. It doesn't matter if you have a massive mini golf course or a small one inside a local mall. Artificial turf keeps your customers playing on even ground, and you save money on upkeep. Additionally, as you have crowds moving through the mini golf course during play, you don't need to worry about having to work in maintenance or upkeep of the putt-putt turf, as you would with traditional sod.
Mini golf course construction begins with planning. And our design team will help you every step of the way. Making the choice to have artificial golf grass for your mini golf course is the right move as it is low maintenance, beautiful and durable.
Imagine your mini golf course installed with turf that looks and feels like the real thing. A great amount of research and development has advanced artificial grass greatly through the years.  The old crispy look of artificial turf is gone and replaced with state-of-the-art artificial grass that is difficult to distinguish from the real thing.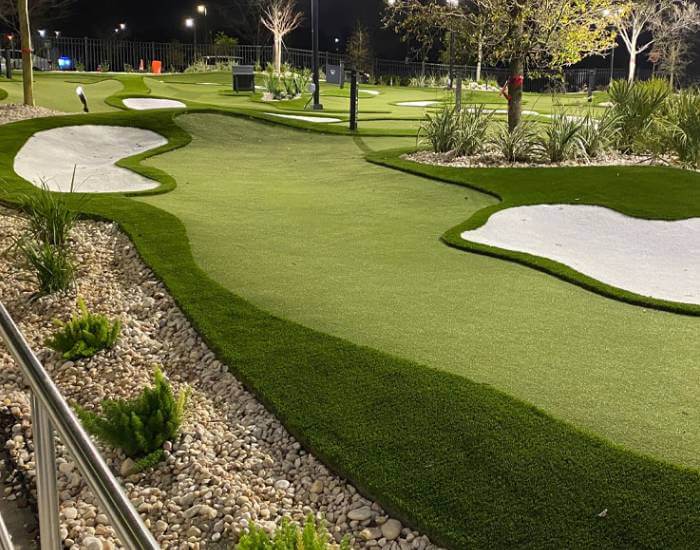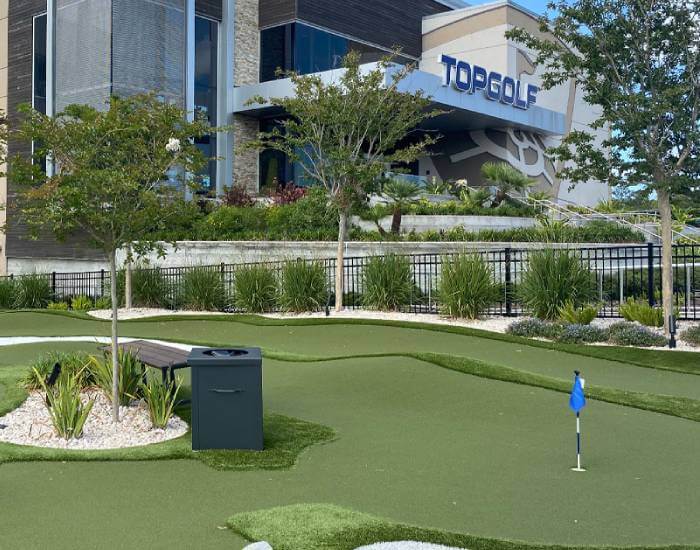 Save on Mini Golf COnstruction Costs
There are a lot of costs involved with creating a mini golf course. You need to purchase or lease the land, build all of the obstacles, construct challenges at all the holes from scratch, develop the plans, and register as a business. Let our team of expert designers assist you with custom designs and challenging obstacles that will challenge all skill sets. 
Businesses are always looking for ways to save money, and artificial grass is one of the most effective. Natural grass on the other hand, must be watered and maintained on a regular basis. Who wants to put up all the effort and money to keep your mini golf green, mowing it when it becomes overgrown, and spraying chemicals to keep bugs away?
Do you want to invest hundreds of dollars to employ maintenance professionals to look after your property? Most would answer an emphatic no. Alternatively, synthetic grass does not require any maintenance. It does not turn brown if it is not watered, nor does it die as a result of prolonged exposure to high temperatures.
Artificial Grass is easy to deal with in Austin, TX
Have you ever tried to grow natural grass around the corner of a mini golf hole? Most would attest that it is not an easy task. But with artificial grass, you can experience a combination of both luxury and low maintenance. Our synthetic turf may be shaped and molded to meet even the most intricate architectural projects.
When your customers putt a little too hard and create divots in your natural grass miniature golf holes, you must fix it. Synthetic grass has the durability to handle the heaviest putters, so it stays pristine no matter the intensity of use, foot traffic or exposure to natural elements
Do you have a specific vision for your course, and you need professionals to help make it a reality? The experts at SYNLawn Austin are ready to assist you with your free consultation.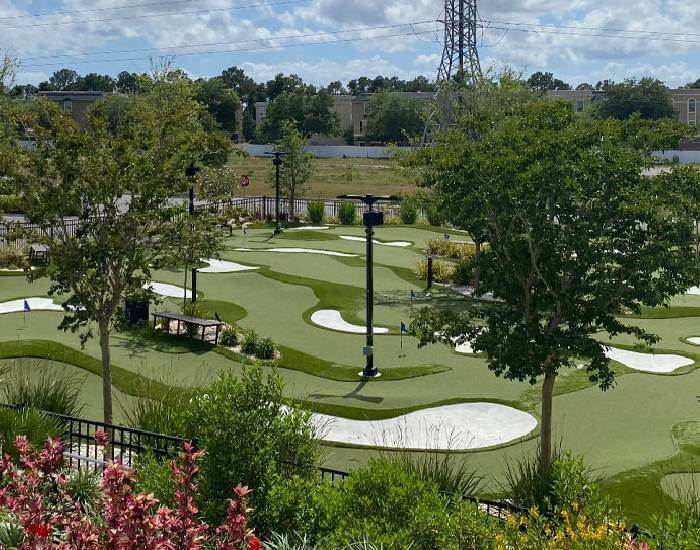 Don't take the risk with Natural Grass
A business needs every edge it can get in this competitive world. You're not just competing against other mini golf courses, you're competing against streaming services, gaming consoles, and other forms of entertainment.
Golf is a sport that requires a very pristine surface. That is because the quality of the surface can actually affect the golfing experience. To ensure the turf meets the highest golfing standards, golf course operators invest enormous amounts of resources. A golf course that is damaged by weather or wear and tear can repel both players and spectators. The answer is synthetic mini golf construction from SYNLawn Austin. With our turf, you can rest assured your golfing surface will stand out. 
If you want more information about our artificial grass for your Austin, Texas miniature golf construction, then please contact us today.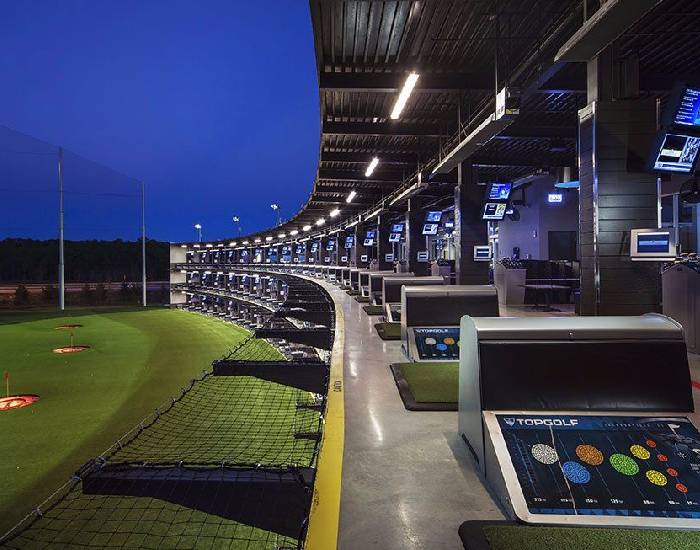 Get a free estimate by providing your information below:
Please fill out all mandatory fields with an astrerisk *
Your information will be held confidential with our company.