Austin Artificial Grass for School Playground Installations
Schools today are making the transition from traditional sod to Austin artificial grass for their landscapes and playground facilities. This increasingly popular option is perfect for schools that have playgrounds, sports fields, lawn spaces, and much more. SYNLawn products are designed to remain luxurious and vibrant all year long, provided superior durability, and save time and money without the need for maintenance. Whether your students undergo intense athletic training, are using their imagination in their younger years, or just want a place to relax in the shade at lunch, SYNLawn artificial turf is suitable for all of their needs.
Enhance Your School's Landscape with Exclusive Artificial Turf Technologies
After more than 50 years of research and development, SYNLawn can confidently boast itself as the most technologically advanced provider of artificial turf. With our groundbreaking innovations, we can ensure that we provide the safest, cleanest, greenest, and most durable synthetic grass available for school installations to date.
HeatBlock™ Technology
During the summer months, temperatures rise and that makes surfaces, including grass uncomfortable to walk or relax on. With HeatBlock, regardless of the time of the year, you will be able to enjoy your lawn at any time, even without shoes!
When the sun's rays hit the surface of the grass, HeatBlock acts as a thermal barrier, lowering surface temperatures by up to 20%. Furthermore, each grass blade on SYNLawn artificial grass with HeatBlock has a softer, less abrasive finish.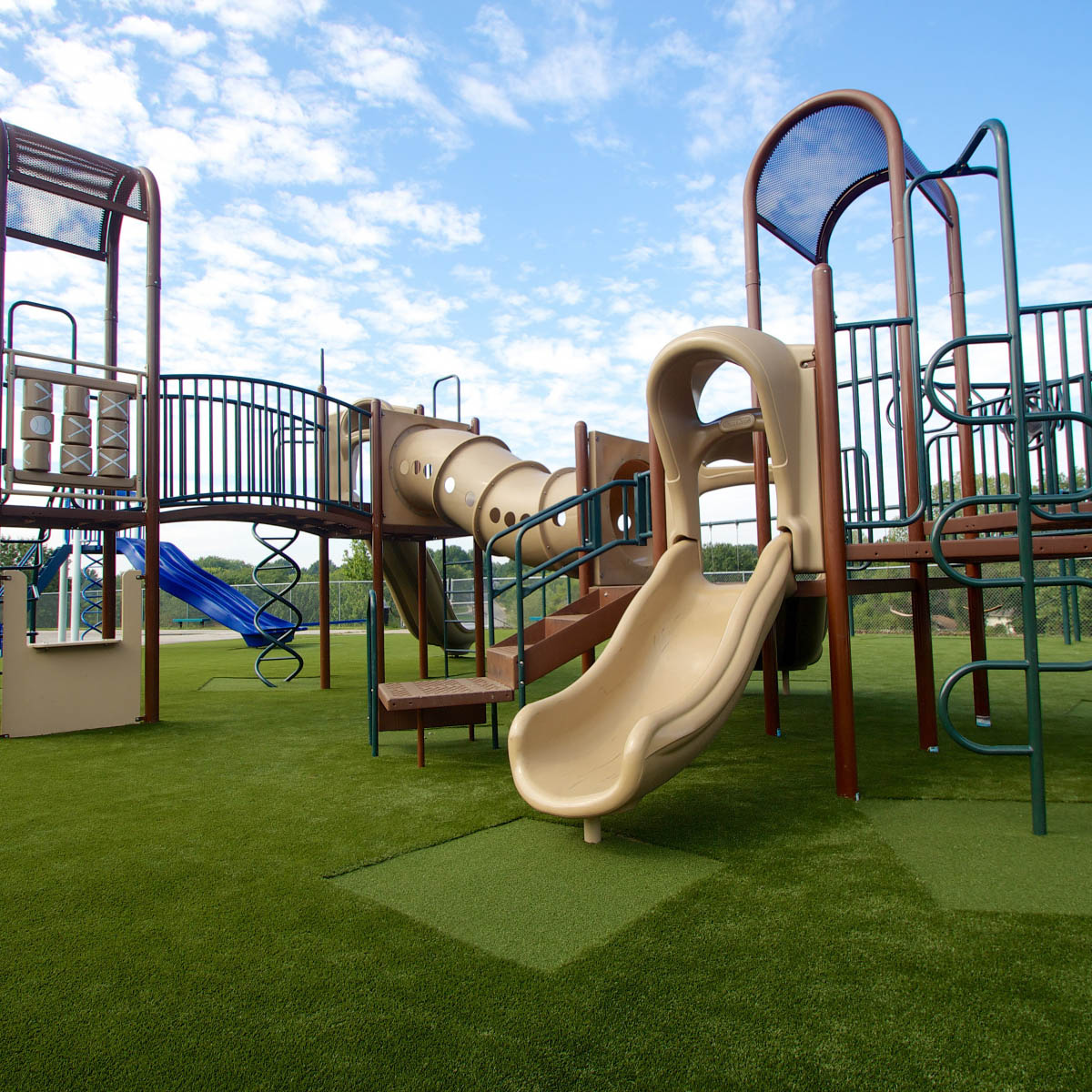 Super Yarn™ Technology
Super Yarn is a fifth-generation exclusive yarn formula that combines three unique components. This first-of-its-kind technology is bound at the molecular level which means that no one component can be broken down. With the help of Super Yarn, Austin synthetic turf provides a safe, sanitary, and resilient surface for students.
Sanitized® antimicrobial - Eliminates 99 percent of all germs as well as pet stains and odors caused by ammonia
DualChill™ - IR reflective technology prevents infrared light from being absorbed into turf fibers
StatBlock™ - anti-static technology prevents the accumulation of static electricity, which increases safety and comfort
EnviroLoc+™ Plant-Based Backing System
Our recyclable backing technology, EnviroLoc+, is manufactured from locally sourced components in collaboration with US soy farmers. Sugar cane and soybean oil are among the ingredients we use, reducing the quantity of petroleum-based products used in our production process. EnviroLoc+ is a two-part woven backing system that functions as a security mechanism for your grass fibers, preventing shedding and holes in your landscape.
The extended life expectancy and recyclable features of SYNLawn Austin synthetic grass products decrease landfill effect, remove emissions from lawn equipment, and save significant quantities of water. Finally, EnviroLoc+ now includes the same power antimicrobial found in Super Yarn to reduce airborne allergies caused by algae and fungi.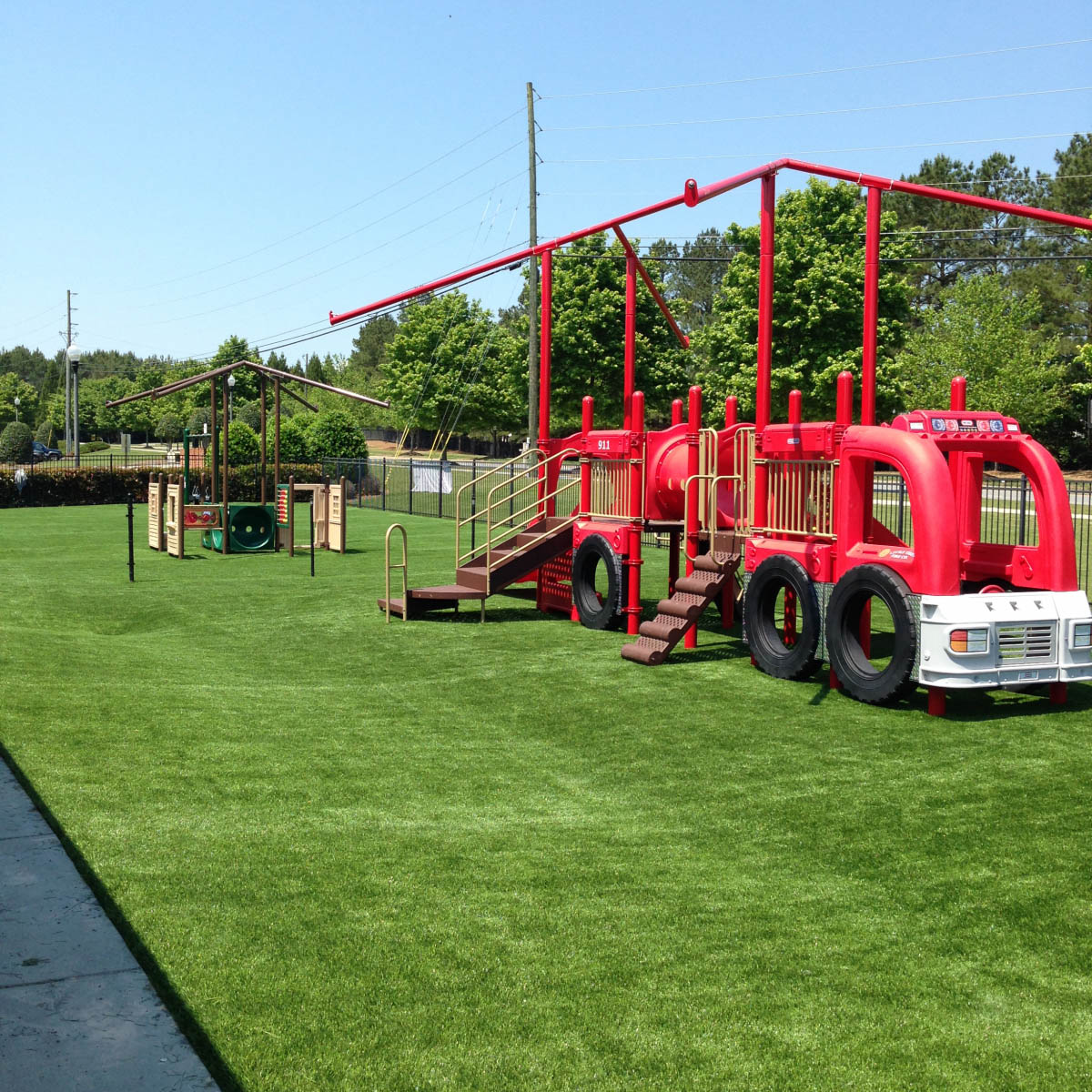 Austin Playground Turf Keeps Children Safe
We do our research as parents to find the best schools that we can for our children to provide them with the finest education available. Why shouldn't schools include the safest places for them to enjoy their favorite sports and play with their friends in their time between studies?
Schools choose SYNLawn for their landscape installations to do just that. Our products are IPEMA and ADA compliant. This means that our children can avoid common injuries and abrasions as well as be padded from falls up to ten feet. In addition, synthetic grass from SYNLawn that are ADA compliant is wheelchair accessible so that absolutely everyone can be included in the fun.
Finally, SYNLawn is the only manufacturer of grass alternatives that offer a Class A fire rating. While we hope we never have to save our children from fires, SYNLawn makes it easy to rest assured knowing that our products are designed to prevent the spread of fire. Having a Class A fire rating broadens the crucial time window necessary for first responders to arrive and extinguish the outbreak.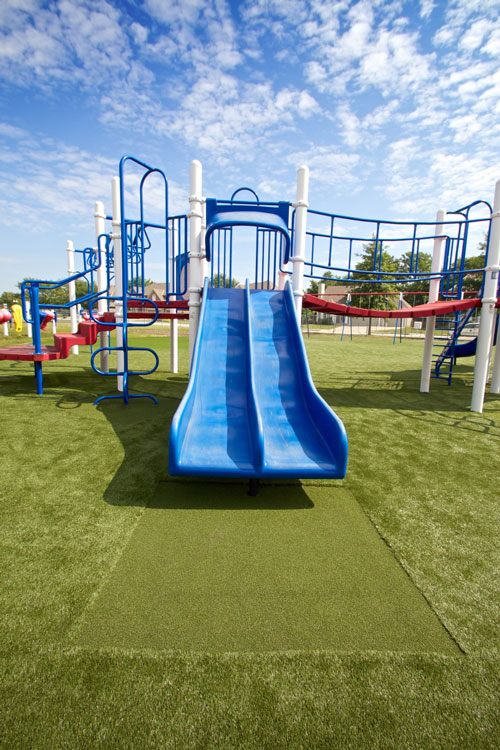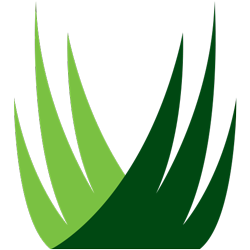 Browse our incredible selection of high-quality products to find the right synthetic turf for your needs.
Austin playground turf provides unmatched quality, safety standards, low maintenance, the latest in turf technologies, and back our products with an unmatched limited lifetime warranty. For more information on synthetic grass for school installations, contact SYNLawn today to schedule a lunch and learn, request a free architectural kit, or schedule a free consultation!
Please fill out all mandatory fields with an astrerisk *
Your information will be held confidential with our company.