Indoor Putting Greens in Austin, TX
When it comes to artificial indoor putting greens in Austin, TX, customers and industry experts turn to SYNLawn Austin. Our brand has become synonymous with world-class synthetic turf in Texas and throughout the United States. 
Practice and Play at your Convenience
SYNLawn Austin has earned an unrivaled reputation for quality and excellence. We incorporate bio-based ingredients like soybean oil and sugar cane and consumer-friendly additions such as antimicrobials to engineer synthetic turf that is both durable and eco-friendly. It's no surprise that Austin residents look to SYNLawn for high-quality residential and commercial synthetic grass installations.
Golf is an all-year sport in Austin. In fact, the city is well known for its outstanding golf courses, made possible by its rolling hills, natural springs, and stunning terrain. Therefore, it's no surprise that the sale and installation of artificial indoor putting greens have seen a dramatic increase in demand. This has primarily been due to synthetic turf's numerous benefits, including its visual appeal, cost-effectiveness, eco-friendliness, and overall convenience. Let's examine these in more detail.
Golf is an exhilarating sport. But it's highly dependent on good weather. Thankfully, Austin has plenty of that. But there are limitations: the game cannot be played when it rains or in brutally cold conditions. Also, local golf clubs close after nightfall.
The logical answer to these dilemmas is to install artificial indoor putting greens. With a private indoor turf, you never have to worry about rain, cold, or even nightfall. You can practice and play at any time and in any season, which can help enhance your performance.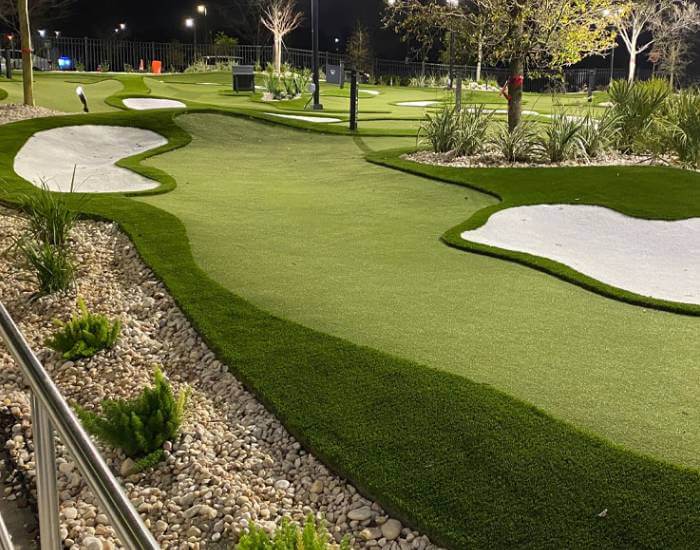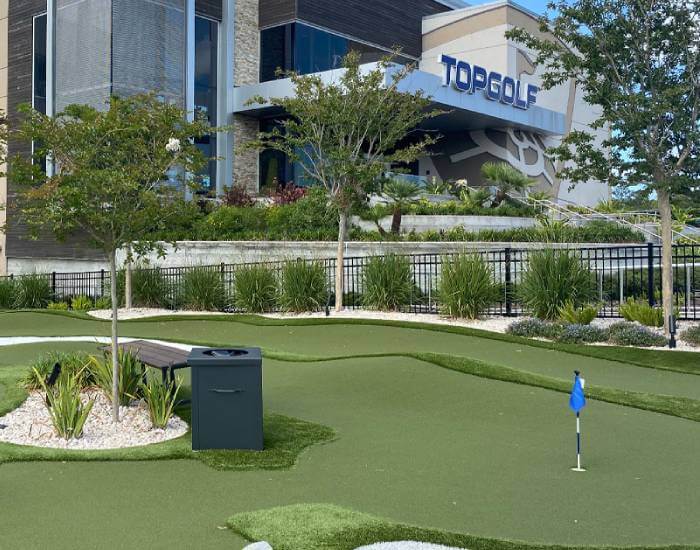 Austin's public golf courses are some of the most iconic in Texas, but they require a lot of maintenance to preserve their magnificence. This means a never-ending list of landscaping chores, contracts, and labor. Additionally, the grass needs to be watered around the clock to ensure it remains appealing and does not succumb to fungi or desiccation. All this does not even factor in the cost of chemicals and lawn equipment. 
Cumulatively, these chores can add up to thousands of dollars a year in landscaping costs. The simple solution is to install SYNLawn Austin's signature artificial putting greens. Once installed, the turf does not require any ongoing maintenance or landscaping work. The owner need not worry about watering, lawn equipment, or purchasing chemical additives. This is a very cost-effective remedy for both residential and commercial customers in Austin.
We live in an age where environmental conservation is front-page news. As a result, consumers are now more mindful of the ecological impact of the products and services they purchase. This includes the industrial chemicals used in landscaping. Recently, pesticides, fertilizers, and herbicides have come under increased scrutiny, given the adverse effects they have on the environment. For instance, these chemicals leave toxic components in the soil, vegetation, marine life, and even groundwater. Likewise, the fumes emitted from gasoline or diesel-powered lawn mowing equipment have been cited for adding harmful carbon compounds into the atmosphere. 
Artificial turf, on the other hand, is safe for the environment. In addition to antibacterial technology, our turf is made with plant-based and FDA-approved bio-based substances that include soybean oil and sugar cane. Furthermore, artificial golfing turf does not require chemicals, and there are no carbon emissions because no lawn mowing equipment is necessary.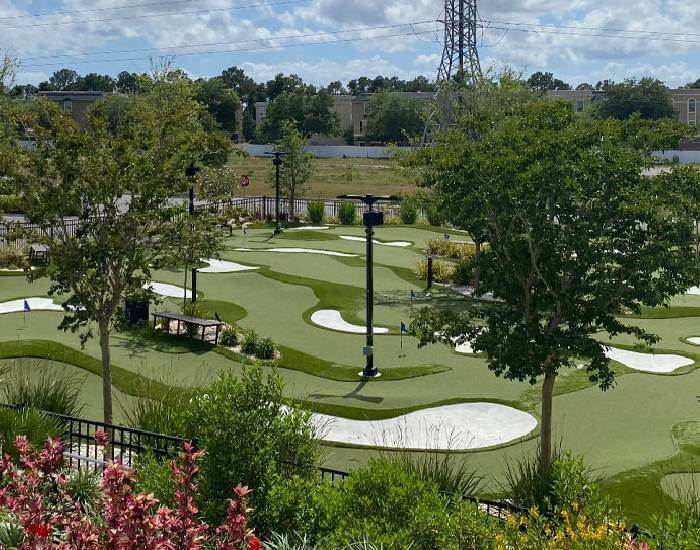 Call to Schedule a free Consultation
Whether you're a professional or amateur golfer, our skilled designers and installation experts make indoor putting green dreams come true. Let us walk you through every step of the purchasing and installation process. Our friendly team of experts can also assist you by evaluating to ascertain your unique requirements. To make an appointment, contact us today.
Please fill out all mandatory fields with an astrerisk *
Your information will be held confidential with our company.